ray@raymcnamara.com
(951) 313-8727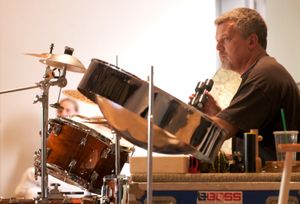 CALYPSO PIRATES
The Calypso Pirates, led by Steel drummer and Percussionist Ray McNamara, have been performing Caribbean Music since 1987. The band consists of 4 to 6 members featuring top quality musicians from the Los Angeles area.  The instrumentation includes: Steel pans, Drum set, Bass, Guitar, Keyboards, and Percussion.  Top notch Vocals add to the experience of a unique musical setting which connects to your audience.
The Calypso Pirates play traditional Caribbean Faire including: Soca, Calypso, Reggae, Dancehall, Samba, Bossa Nova, Salsa, Rhumba as well as Rock and Roll, Jazz, Easy Listening and Contemporary. The soulful sound of the Steel Pan is at the heart of their unique sound which will please your audience.
The Calypso Pirates have played for a wide range of clients.  These include: The Los Angeles Festival, Mammoth Lakes Art Festival, The Art Affair, The Pageant of the Masters, The Glen Fest, The Brea Fest, Tommy Bahama's Restaurants,
California Plaza, Beach Daze Live Television Show, "Who's The Boss" on ABC-TV, Redlands Bowl, UCLA World Music Festival, UCR Summer Concerts, Various Concerts in the Park, Ritz Carlton Hotels, Hilton Hotels, The Embassy Suites, and many other corporate clients.  They have also given Concerts in Jamaica, Japan, Canada, Mexico and throughout the United States.
The Calypso Pirates will take you on a musical journey that you and your guests will remember